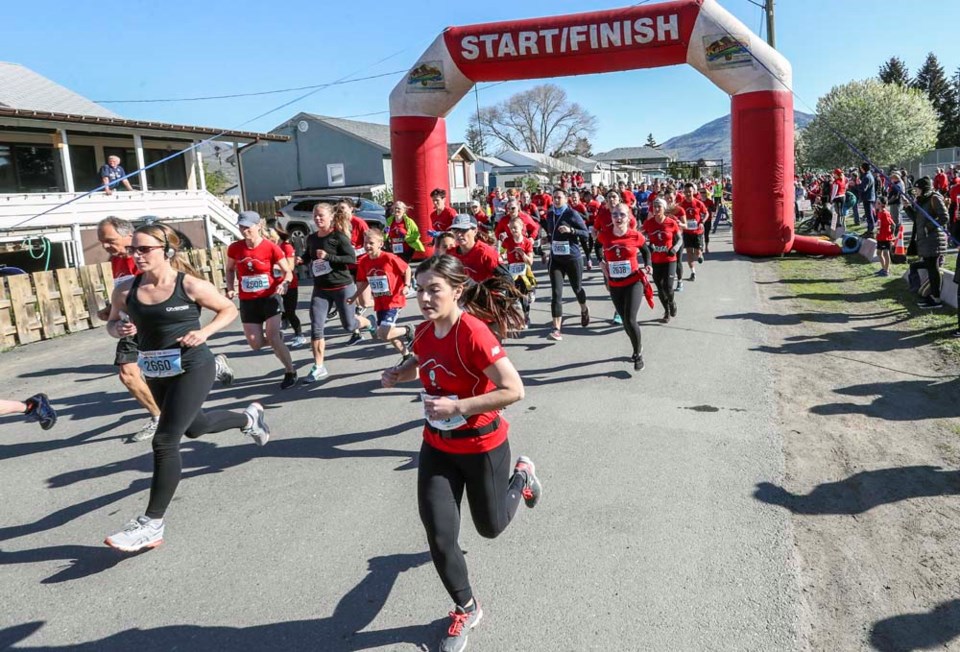 Boogie the Bridge 2022: Week 5 Workout
Bogie is back! Questions about training methods? Go online at runclub.ca or email [email protected]
Boogie the Bridge celebrates its 25th anniversary this year, and when walkers and runners gather at McDonald Park in North Kamloops on April 24, it will be the first in-person Boogie since 2019.
The pandemic has scuttled the mass in-person event for the past two years.
Registration is open online at boogiethebridge.com, with different course options – one-kilometre kids' mini-boogie, five-kilometre half-marathon, 10-kilometre and 21-kilometre – available for the event which raised more million dollars for charities. Western Canada Theater and its First Nations Youth Theater Program is the Boogie's Charity of Choice in 2022.
As in previous years, Kamloops This Week publishes, online and in each print edition, a column from Berry, as well as weekly updates from three participants.
KTW Sales Representative Paul De Luca, Tk'emlúps te Secwépemc Coun. Joshua Gottfriedson and Kamloops Symphony Orchestra General Manager Daniel Mills, Councilor Tk'emlups, and Daniel Mills write about their experiences as they continue to practice towards their goal.
We hope you find inspiration in these ideas and inspire you to do what you can to ensure that your physical and mental health is as optimal as possible. Questions about training methods? Go online for runclub.ca or send an e-mail to [email protected].
Joe Berry
Founder
Boogie the Bridge and RunClub
For so many runners, the idea of ​​a group run is either terrifying or out of the question.
I have coached many people through their first day (pre-contemplative stage). The invitation is for them to come out and try and the result is always the same – they stay. Showing up on the first day is always the hardest part.
We are now halfway through our Boogie Workout Clinic. More than anything, witnessing the growth and self-confidence of others and realizing their abilities is an out of this world feeling. Seeing them explode into their "I could never be a runner" mindset is a motto that completely fills our coaching staff.
It's an exciting time for everyone. They have made it through that first day and are now seeing the reality of completing their first 5k, 10k or 21k distance.
And running is so much more fun when you do it with friends. One of my favorite parts about RunClub are the friendships that ensue, lifelong friendships that last.
There is something magical about movement and friendships. They endure, grow, understand and grow stronger with every step along the way. Nothing enlightens me more than seeing all the solid friendships that are made by running and walking. Running is a sport that asks you to show up on the good days, the bad days and the unforgettable days. Perhaps this training is also the ingredient that lasts in friendships – being there for each other through all of life's inevitable ups and downs. There is a deep sense of belonging no matter what.
Boogie day is the same, when a deep sense of belonging occurs. Never underestimate how amazing it is to stand with thousands of walkers and runners departing from Boogie, ready to do something remarkable.
It's pretty amazing to show up and belong. That's what the Boogie is all about: showing up as you are. Time is precious. It's just. What are you waiting for? Today is always the day. Join and experience belonging, acceptance and success as you are.
PAUL DE LUCA
Commercial
Kamloops this week
Jo's message last week – take your time, you're not in a half marathon yet – came at the perfect time.
So far my training had been going well, normally consisting of several short runs throughout the week and one longer run.
I was amazed at the progress I was able to make each week, even writing about it in last week's article.
Last week was different. I injured my knee when I was a kid and it never fully healed. To be fair to my body, I've never really given it a good chance to heal, whether through snowboarding, surfing or rugby – not the best sports for the knees.
So far I had no real complaints from my knee other than the occasional pain, but nothing major. Last week, however, I managed to force it.
I tried to put pressure on it, but the familiar pain returned. I had to reschedule my errands and it was incredibly hard knowing I was wasting time on the pavement, but it had to be done.
Taking time to reset and recuperate has allowed me to appreciate all that I've been able to accomplish, but it's also given me a great idea of ​​everything I want to learn from this club, the people and the community. 'activity.
I'm talking about my running journey, and so far it's been mostly high, but this week has been a great reminder that you have to take the bad to really be able to celebrate and appreciate the good.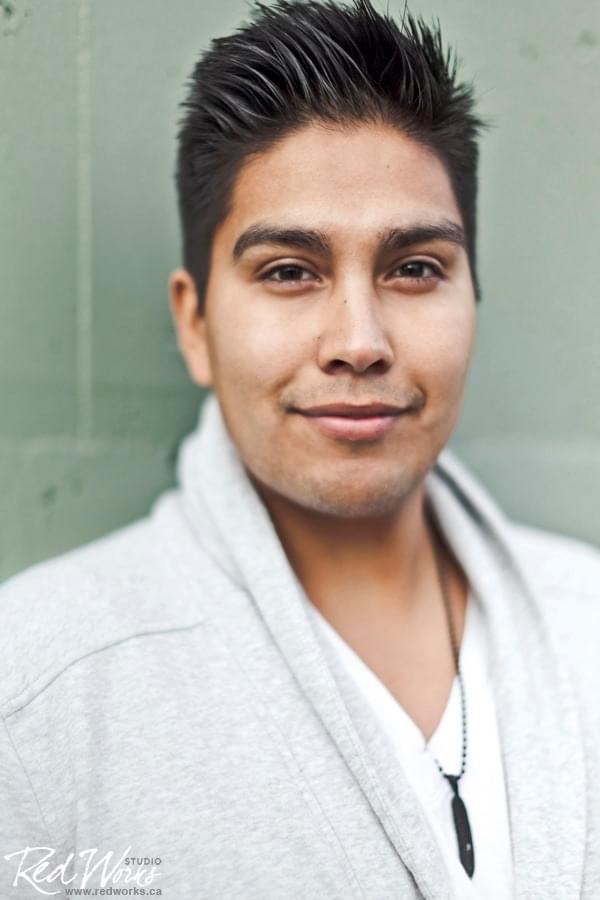 JOSHUA GOTTFRIEDSON
Advisor with Tk'emlúps te Secwépemc
Wéyt-kp (hello to more than one).
RunClub's support is second to none. The community that is RunClub helped lift my spirits when they were still snuggled up in my bed at 8am on a Sunday morning.
Our community is completely and utterly infectious, leaving you with a smile on your face and gratitude in your heart for being placed in their path. It's something you don't miss until you are without.
I was without all week, but that doesn't mean I didn't race. My first getaway without RunClub was on Sunday last week, when I was able to enjoy one of my great passions: playing hockey.
Running after playing three hockey games and not having a support system was a tough experience. I felt like I was running in the sand and after a weekend of skating in the sand, because running muscles don't translate into skating muscles, running on Sunday left me uninspired .
Last Tuesday's race, on a business trip to Richmond after a long drive to the coast, was another chance to dream of RunClub support. One gift that Jo and RunClub have given me is that of gratitude. I can now see the world of which I am a part.
Wheezing and difficulty running are a silver lining because we are grounded. The sights and sounds of various environments motivate a runner to embrace the beauty of being outdoors.
I am a better human with an attitude of gratitude.
Kukwstsetselp (thanks to more than one).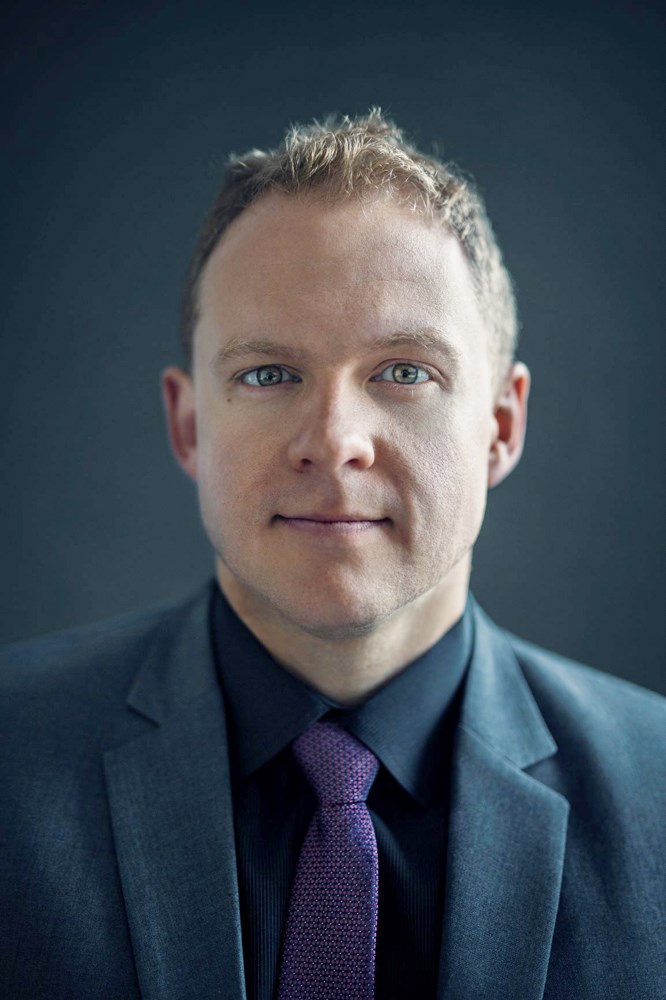 DANIEL MILLS
General Manager of the Kamloops Symphony Orchestra
When running long distances – and, really, in all things in life – sometimes it doesn't matter how fast you're moving, just that you're moving forward.
I will admit that I am sometimes guilty of going at unsustainable speeds in various activities, sometimes to my own detriment. Last week, after a weekend in the Lower Mainland that included a run along the ocean, I returned to Kamloops just in time for Tuesday's RunClub session. A bit exhausted from the weekend activities, I decided to try something new and joined the Power Walkers for their workout.
What followed was a surprisingly rejuvenating brisk walking session, complete with lovely conversations with those in the group. I have found that some walkers are individuals who are just beginning their fitness journey. Others are those who have already completed many errands, but enjoy the pace and social aspect of moving together.
I've learned that here really is a place – and a pace – for everyone in RunClub and sometimes slowing down can bring many benefits. So my goal for the week is to loosen up my pace, both in physical activities and in my life in general. I am very fortunate to be performing as a soloist with the Kamloops Brandenburg Orchestra this weekend, an opportunity that had been postponed to June 2020.
I hope that by taking the week more leisurely, I can truly enjoy the experience, as well as the other offerings of life in the weeks to come.