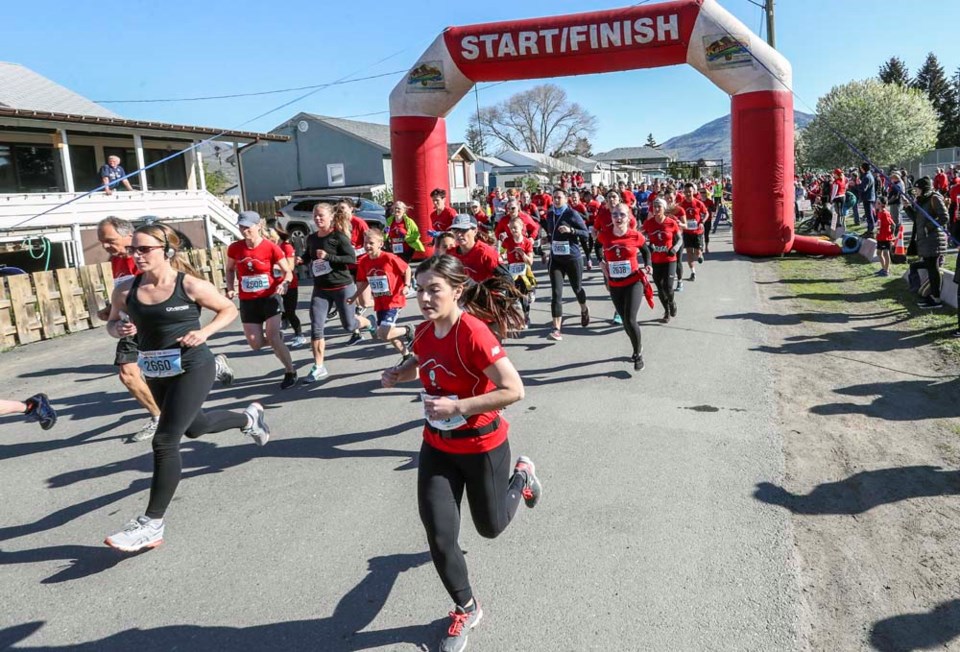 Boogie the Bridge 2022: Week 6 Workout
Bogie is back! Questions about training methods? Go online at runclub.ca or email [email protected]
Boogie the Bridge celebrates its 25th anniversary this year, and when walkers and runners gather at McDonald Park in North Kamloops on April 24, it will be the first in-person Boogie since 2019.
The pandemic has scuttled the mass in-person event for the past two years.
Registration is open online at boogiethebridge.com, with different course options – one-kilometre kids' mini-boogie, five-kilometre half-marathon, 10-kilometre and 21-kilometre – available for the event which raised more million dollars for charities. Western Canada Theater and its First Nations Youth Theater Program is the Boogie's Charity of Choice in 2022.
As in previous years, Kamloops This Week publishes, online and in each print edition, a column from Berry, as well as weekly updates from three participants.
KTW Sales Representative Paul De Luca, Tk'emlúps te Secwépemc Coun. Joshua Gottfriedson and Kamloops Symphony Orchestra General Manager Daniel Mills, Councilor Tk'emlups, and Daniel Mills write about their experiences as they continue to practice towards their goal.
We hope you find inspiration in these ideas and inspire you to do what you can to ensure that your physical and mental health is as optimal as possible. Questions about training methods? Go online for runclub.ca or send an e-mail to [email protected].
Joe Berry
Founder
Boogie the Bridge and RunClub
If I had a dollar for every time I heard someone say that running isn't good for the body, I'd have a lot of money.
Running can get a really bad reputation because it's misused and misunderstood. Yes, there are risks associated with running, just like there are risks associated with any sport. But making the blanket statement that running is "bad for you" is something that just isn't true.
Running doesn't have to beat your body. In fact, it strengthens tissues, bones and tendons if proper rest and adaptation is allowed. It also significantly improves mental health and quality of life.
The most common mistake is that people start running and do too much, too soon. I know this because I also did too much, too early in my early years of running. I learned quickly, then backed off and started walking before running. Walking is an exceptional form of fitness and to this day I always take walking breaks in my run every workout.
Another reason people think running is bad for you is that they're scared – very scared. We have thousands of stories of those who have come to RunClub – and their lives have been changed forever.
A story is about a wonderful man who came with his wife to many races with RunClub. He stayed at the finish line and waited for her to pass. It lasted for years. Then one day he decided to try running. He is now an ultra-runner and is heading to the Boston Marathon next week. To get into Boston, you have to be fast and qualify. We are so excited for Sheridan and Annie, who are leaving this week for an incredible adventure and a lifetime memory.
There truly is a safe, doable, and effective way to put running in your life forever. The answer is patience, walk breaks, moderation, rest, recovery, and sensitivity.
Boogie has a pace for everyone, from walkers to half marathon runners. All of these humans stepped out of their comfort zone, tried and are now doing amazing things, even going as far as the Boston Marathon.

PAUL DE LUCA
Commercial
Kamloops this week
Last Tuesday was disgusting.
We were to meet at Westsyde for our evening training. Coming home from a long day at work, I looked out the window and saw huge storm clouds covering Westsyde. I had made the declaration: I will not race in rain and sleet. I don't need this and I don't want this.
As I internalized this, I realized that it didn't bother me that much. It will only be a little over an hour. You can do it.
I bundled up and started driving to Westsyde. The rain pounded on the windows as I took the freeway. Maybe it was a false sense of confidence. I can still turn around. As I continued to make excuses and talk myself out of them, I somehow ended up in Centennial Park in Westsyde.
I slowly got out of the car and headed for the meeting. Jo and the coaches were a force of energy. It was amazing to see everyone so motivated.
As we separated into our separate groups, we were racing uphill. Jo gave great talks about bonding with the band and finishing hills together. True to his word, we completed the hills together. It was a different feeling – not just physically satisfying, but also mentally nourishing – to complete the task as a team.
It was a great feeling to share the victories with the group. I know that if I had stayed home, I would never have felt better than when I walked away from RunClub.

JOSHUA GOTTFRIEDSON
Advisor with Tk'emlúps te Secwépemc
Wéyt-kp (Hello to more than one).
I started a trip to the United States last Friday.
Our first attempt, the red eye to Orlando, was thwarted by a few gusts of wind. We were delayed for a few hours and reluctantly purchased a room for one night in Kelowna.
After a few hours of sleep, we hopped on a plane to Toronto, only to be met 13 hours late. Luckily my partner and I had a few friends to welcome us into their home for the evening, which gave us a few more hours of sleep. We were woken up by the intrusive sound of our alarms and headed to the Toronto airport for a flight to Orlando.
Finally, we reached our destination and the happiest place on earth two days later than expected.
At first it seemed easy to be angry and negative. Then I realized where my beautiful girlfriend and I were, a place I could only dream of as a young boy – Disneyworld! I am literally living my best life with someone I completely love and adore. Life is beautiful and every day I am shown how easy it is to be grateful.
I grabbed my shoes and will show this new part of the world my love and appreciation by showing up to earth with every step I take. I carry the love and support of the RunClub community to the East Coast of America.
Kukwstsétselp (Thanks to more than one).

DANIEL MILLS
General Manager of the Kamloops Symphony Orchestra
We are less than two weeks away from race day.
Training has gone well and overall I feel strong and physically healthy, which as we know more than ever should never be taken for granted.
Last week I ran with the 21.1K team, doing the familiar three bridge loop. For the first time, however, I was not alone on the course as there were over 20 other runners with me. It's great to see how close so many RunClub members are to reaching their race day goals, with several first-time half-marathoners in the group.
However, aside from running activities, there is plenty to do over the next couple of weeks.
Over the next 11 days, we will conclude an unpredictable season of the Kamloops Symphony, with three different concerts. That means a lot of last-minute deliverables and details to coordinate. We are also very busy putting plans into action for the 2022-2023 season.
And, on a personal level, I also navigate several commitments and situations that require quite a bit of energy.
But what I've learned from my recent racing experiences is this: life can bring anxiety and complications, but come race day, you can put all that aside. As long as the race lasts, it's just you and the road.
I plan to make April 24 an exception.