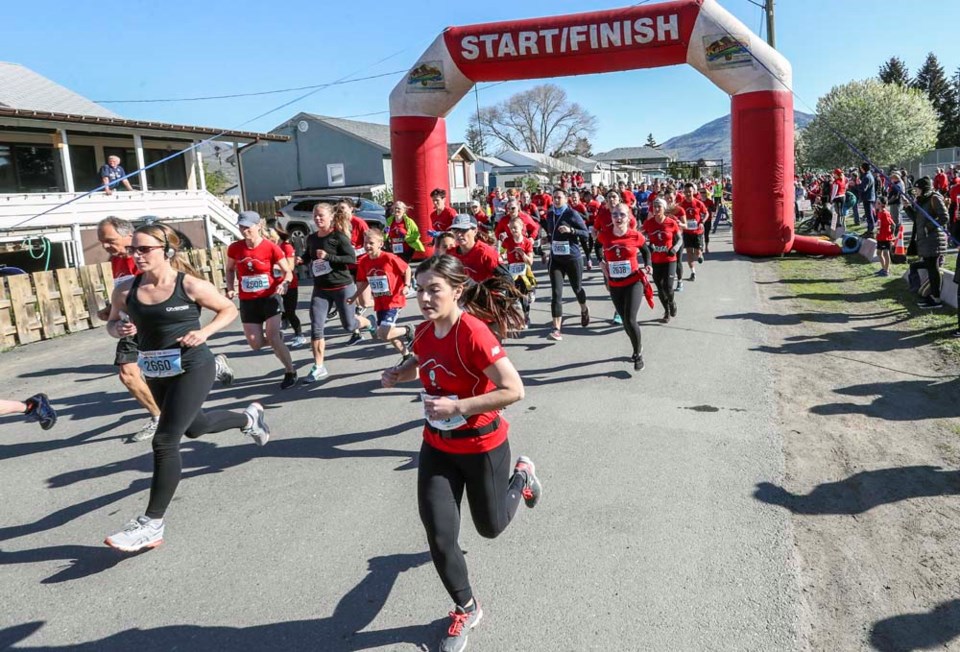 Boogie the Bridge 2022: Workout Week 2
Bogie is back! Questions about training methods? Go online at runclub.ca or email [email protected]
Boogie the Bridge celebrates its 25th anniversary this year, and when walkers and runners gather at McDonald Park in North Kamloops on April 24, it will be the first in-person Boogie since 2019.
The pandemic has scuttled the mass in-person event for the past two years.
Registration is open online at boogiethebridge.com, with different course options – one-kilometre kids' mini-boogie, five-kilometre half-marathon, 10-kilometre and 21-kilometre – available for the event which raised more million dollars for charities. Western Canada Theater and its First Nations Youth Theater Program is the Boogie's Charity of Choice in 2022.
As in previous years, Kamloops This Week publishes, online and in each print edition, a column from Berry, as well as weekly updates from three participants.
KTW Sales Representative Paul De Luca, Tk'emlúps te Secwépemc Coun. Joshua Gottfriedson and Kamloops Symphony Orchestra General Manager Daniel Mills, Councilor Tk'emlups, and Daniel Mills write about their experiences as they continue to practice towards their goal.
We hope you find inspiration in these ideas and inspire you to do what you can to ensure that your physical and mental health is as optimal as possible. Questions about training methods? Go online for runclub.ca or send an e-mail to [email protected].
Joe Berry
Founder, Boogie the Bridge and RunClub
Hot-diggity-dog – we are baaaack and incredibly grateful. It's surreal to be back together and in community. The deep level of appreciation is powerful for all of us and should never again be taken lightly.
When we hear the testimonials of the participants, our coaching team knows why they are there. The currency of health (and change) is the priceless one. We know people will change over the next eight weeks and be healthier. Being part of it is an incredible experience.
People often start running (or walking) to lose weight and to incorporate exercise into their lives. They may be the conduits to begin with, but very soon a discovery they may not have expected begins to take shape: the mental form.
As many of you know, I have always run for my sanity. Yes, the physical benefits are huge, but for this runner, it was always the mental health benefits that really kept me grounded and able to cope. Like most runners, I relish the short-term experience of finishing my run feeling like I've reset and can handle the rest of the day better. What is not universal is my recognition that without regular running, the underlying fabric of my life – my mental health, my relationships and my career – will suffer. For those of us with depression or anxiety, we need to run like a diabetic needs insulin.
I discovered this decades ago and now researchers and practitioners are starting to catch up. Studies show that movement can be as effective as antidepressants in treating mild to moderate depression (and with side effects like improved health and weight management, a bonus for our overall health). In countries like Australia, the UK and the Netherlands, official guidelines include exercise as first-line treatment for anxiety and depression. Hopefully Canada will follow soon.
A blessing of the past two years is that we're all talking about it now. I am delighted. Come to the Boogie and feel the vibe.
Boogie is all about you, your health and your happiness. Movement is change.

PAUL DE LUCA
Commercial
Kamloops this week
Fear, hesitation, and anxiety were some of the feelings I experienced as I prepared for my first RunClub meeting.
As one of the writers, I had to speak briefly about myself and my journey with running.
I pride myself on being able to walk into a room and strike up a conversation, but this was different. This was me talking to a group of experienced runners in a tight-knit community who all know the race and the goals. Who am I to tell them about my journey?
I was the last to speak, after Joshua and Daniel. Both gave incredible talks about themselves and why they are here. Great, now I was even more nervous to follow.
As I got on stage, I began to explain my own journey that led me to this point. After my speech, I was greeted with applause and high fives. As we walked out to start our run, people kept coming up to congratulate me.
Racing was something we did together. My victory that night was shared with everyone. I felt that I was really accepted and appreciated in this fantastic club.
I realized that this journey I am on is so much bigger than just physical labor. The mental and emotional work is just as intense and frightening and, perhaps, even more rewarding.
With the goal of finishing the 21 km race, which I have never done, I again have this fear of the unknown.
But after this RunClub meeting, I know I'm in good hands.

JOSHUA GOTTFRIEDSON
Advisor with Tk'emlúps te Secwépemc
Wéyt-kp (Hello to more than one).
Life has a funny way of bringing you back to opportunities for growth. When Jo knocks on your door asking you to come back and join RunClub as a profile runner, you answer the call.
After the last two years of COVID-19, we have entered the endemic phase. I've spent the past two years mostly sitting on the couch, in the desk chair, and eating whatever comfort food is available.
In early spring 2021, after my father passed away, my sister, Sunshine, convinced me to join RunClub. She proclaimed that the energy and culture of this community is completely uplifting,
RunClub has met these expectations – and more. Jo's energy is contagious and her culture has spread throughout the club. The club has a mantra – 'The hardest part is showing up' – which is absolutely true.
Something happens when you drag yourself out of your comfort zone. You "show up" more holistically than expected. Physically, mentally, emotionally and spiritually, parts of your being are invigorated and awakened by this dynamic group.
I feel great to be active again and investing in my health starts with lacing up my running shoes. Hitting the ground and feeling every care drop to the earth with every stride was a fantastic outlet. The pressures of not being fast enough, smart enough, or in perfect shape are no longer relevant once we relate to these formidable groups of humans.
Kukwstsetselp (Thanks to more than one).

DANIEL MILLS
General Manager of the Kamloops Symphony Orchestra
Two completed weeks of RunClub are over.
During my first few sessions, I was looking forward to finally seeing Jo Berry do what she does best – inspiring others to become better people and do great things. It was impossible not to be sucked into the incredible energy of Jo and the rest of the RunClub coaches.
It was equally inspiring to see all the people whose lives have benefited from Boogie the Bridge and RunClub.
It was great to meet so many runners in last week's sessions and hear about their own running journeys. I couldn't help but wonder how my own running journey would have been affected if I had had something like RunClub when I was training for my first race 10 years ago. Kamloops is certainly lucky to have that here.
Regarding my personal progress, the last week has been difficult for me, as the pressure at work has increased. With the Kamloops Symphony Orchestra concerts last weekend and the many last minute coordination efforts required on my part and that of the team, it was a bit of a challenge to get into these practice runs . But I made them.
I can't wait to see what the next six weeks will bring. I'm sure April 24 will arrive before I know it.
And I can't wait to watch my fellow RunClub members crush their goals with the infectious enthusiasm of Jo and the other coaches.