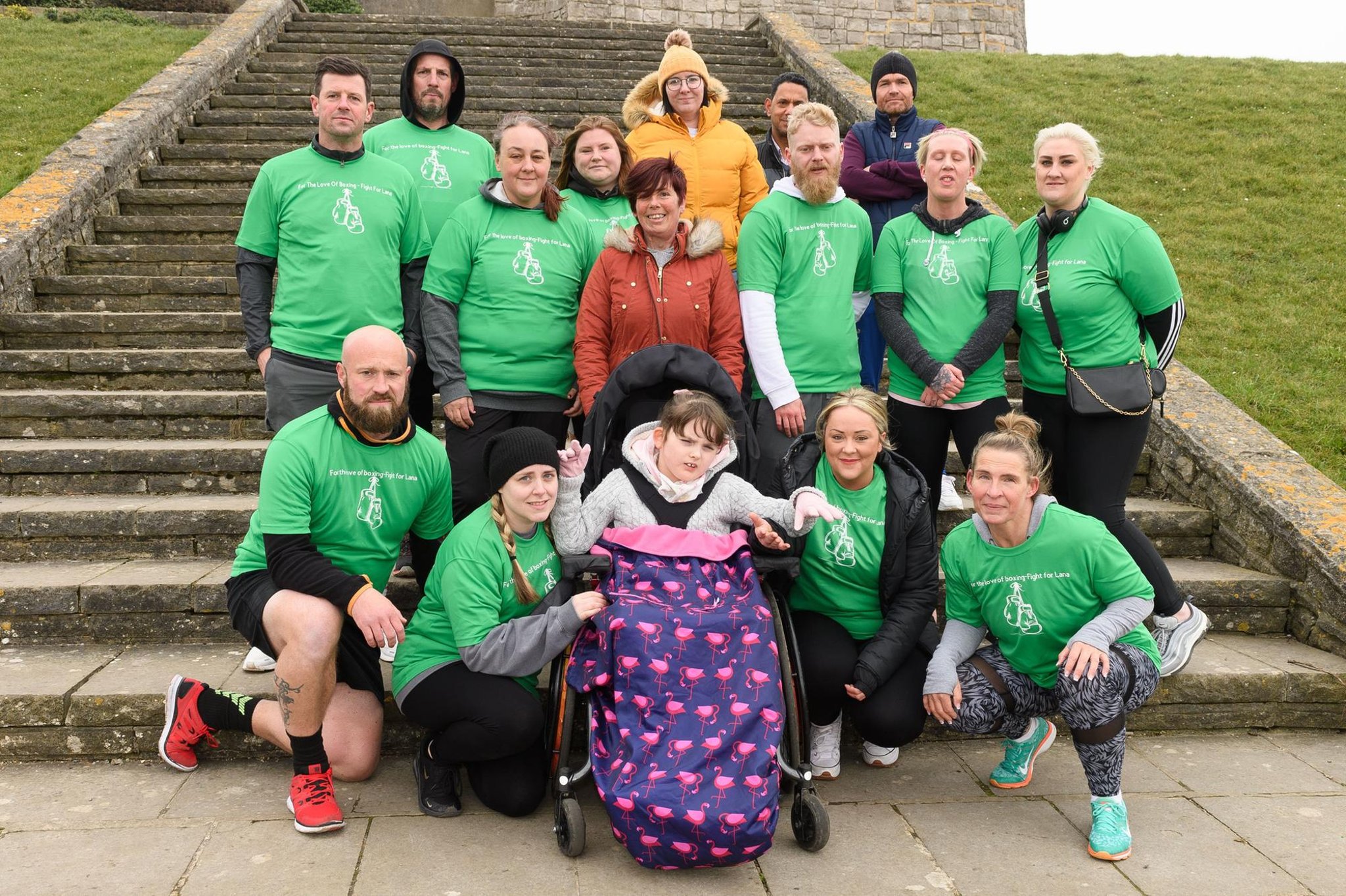 Boxers will fight for the future of Fareham's daughter with a charity event in aid of life-changing surgery
More than 20 fighters have signed up to take part in the For the Love of Boxing Fight for Lana taking place in April in a bid to raise as much money as possible for nine-year-old Lana Brown.
Lana was born with cerebral palsy and she needs an operation called Selective Dorsal Rhizotomy (SDR), which cuts selected nerve roots in the spinal cord to reduce stiffness and could mean she is able to stand and to take steps.
Read more
Read more
"Fantastic" day filled with live performances like Tonic Music for Mental Health o…
Pictured: Lana with those raising funds for her. Photo: Keith Woodland (060321-9)
With other fundraising efforts already underway, her mother Nickki, 52, has so far raised £39,000 of a £45,000 target.
Nickki's friends, wives Lindsay and Katy Evans from Portsmouth decided to hold the boxing event to help raise the last few thousand.
Katy, 37, will participate as a boxer. She said: 'I have known Nickki for about 20 years and my daughter Grace has had the operation that Lana needs.
"I wasn't going to do another fight because I made one and it was a little too much but because it was for Lana, I stepped in to do it."
Pictured: Lana with mom, Nickki Photo: Keith Woodland (060321-5)
Nickki thanked everyone involved. She said: "If we were to hit the target and have surgery, it would completely change Lana's future. And that would change mine as a caregiver and her mother.
"It's breathtaking, I'm so, so grateful for every support we've had. It's heartbreaking, they want to help a little girl they don't even know.
"The match is going to be epic, it's going to be the best night."
It is expected that 22 boxers will face off on the night with up to 15 bouts on the way.
Pictured: Natalie Pollard and Joanne McGee Photo: Keith Woodland (060321-30)
Competitors have been training three times a week since February in anticipation.
Organizer Lindsay, 38, added: "We've done many charity events but this one is different because it's not for a big charity – it's a personal cause – and we can all see where does the money go.
"It's going to be a great night."
Pictured: training of Aaron Sinclair and Gavin Potter. Photo: Keith Woodland (060321-18)
Head coach Danny Salter, trainer Chris Hayden, trainer Dan Tait and physical therapist Ahmed Osman assist the boxers, all of whom offer their expertise for free.
The event will take place at the Pryzm nightclub in the city center, provided by manager Dale Clark.
Join the For the Love of Boxing – Events group on Facebook and message Lindsay to buy tickets there. Tickets cost £20 each.
A day of family fun to benefit Lana's cause will also be held on March 13 from 12 p.m. to 4 p.m. at the Milton Arms.
A message from the editor, Mark Waldron
Subscribe here for unlimited access to all our coverage, including Pompey, for just 26p a day.