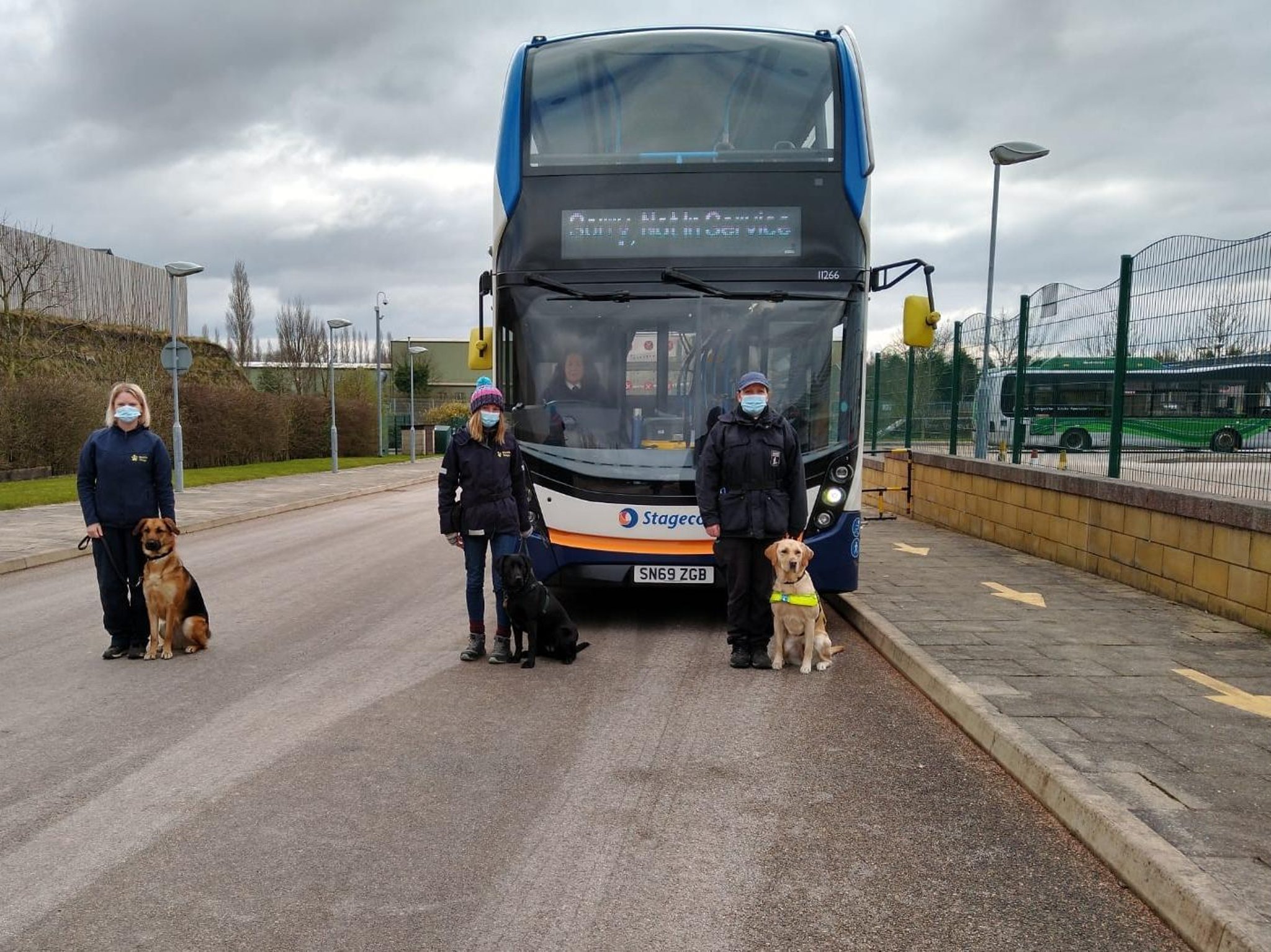 Bus operator offers support for charity training of future guide dogs in Wigan
[ad_1]
Training at the regional guide dog center in Atherton had to halt for several weeks when the first nationwide lockdown was imposed in March last year.
As trainers resumed work with the dogs, the charity needed to ensure the safety of its staff and members of the public, so activities such as bus and train travel were not possible.
This was a real blow, as most guide dog owners will use public transportation to get around.
Guide dog trainers Joy Murray, Sara Keating and Paula Farnell help dogs get used to traveling by bus, with bus driver Karlyn Macgillivray
It is essential that trainers can familiarize dogs with traveling by bus and make sure they feel comfortable in public transport to prepare them for their life as a guide dog in training.
But Stagecoach Manchester came to the rescue by having a bus and driver come to the center once a month so the dogs could continue this vital part of their training.
The driver of the first bus, Karlyn Macgillivary, allowed the dogs to board the stationary vehicle with the engine off and practice getting on and off with the engine running.
The driver then selected shorter and longer routes to follow, which made it possible to train several dogs at different stages.
Caroline Charnock, Guide Dogs Canine Assistance Services Operations Manager, said: "This training is incredibly beneficial for our dogs and it is something that would not have been possible without Stagecoach. We are following all of the Covid restrictions which have delayed much of our work, but this will allow us to familiarize our dogs well on the buses before playing their role as qualified guide dogs. "
Lee Wasnidge, Managing Director of Stagecoach Manchester, said: "We are proud to continue to support the work of Guide Dogs to ensure that every customer who wants or uses our services can travel on the Stagecoach bus with confidence. "
Thanks for reading. If you enjoy what we do and are able to support us, a digital subscription costs just £ 1 for your first month. Try us today by clicking here
[ad_2]