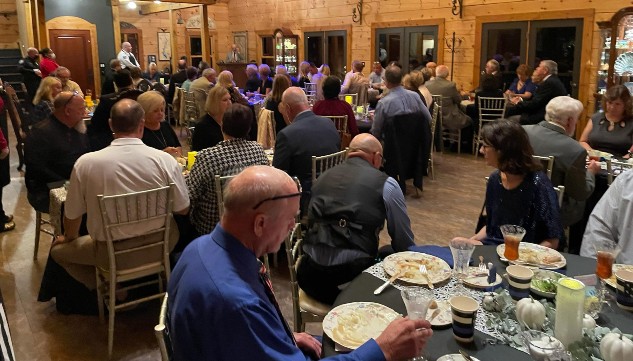 Charity event raises funds for Norwood's new police dog – The Stanly News & Press
[ad_1]
A Norwood-based nonprofit recently turned to local business with a fundraiser for the Norwood Police Department.
Mark Hawkins of Cross Ties Ministries hosted a dinner which, along with a silent auction, raised $ 20,401 for the Police Department for the Cause for Paws Project.
The project enabled the ministry to purchase a new police dog as well as the necessary training and supplies.
Hawkins' organization has been helping students in Nicaragua for about 10 years, including building several churches and an emergency department for a hospital.
Growing up, Hawkins 'best friend's brother was Robbins' police chief. He said he grew up befriending members of the department.
"They were just people and that's how they treated me," Hawkins said.
His support for law enforcement, he said, comes from his nearly 20 years of working in the field. Hawkins was the youngest police officer in the state while attending school at Central Piedmont Community College. He then worked for the State Bureau of Investigation.
Hawkins also admitted that his father, a longtime Methodist minister, and his mother helped him start Cross Ties after quitting law enforcement and starting his own polymer business making plastic parts.
When Nicaragua was taken over by a dictatorship, he said, Cross Ties could not continue to stock up. With funds still in the 501 (c) (3) organization, Hawkins said the question had arisen as to what the group could do in their Norwood garden.
Raising money for a new Norwood police dog was the solution, he said.
"These men and women have to show they are appreciated," Hawkins said. "We thank them for their service and that we know they go above and beyond."
Norwood Police Chief James Wilson said he was "extremely grateful to Mark and Kay Hawkins for organizing this event. It is very humbling to see members of our community coming together to support their police service. I was shocked that such a large sum was raised in one evening to fund a new K9 for the town of Norwood. It is always exciting to have such positive partnerships between a community and its police service.
[ad_2]