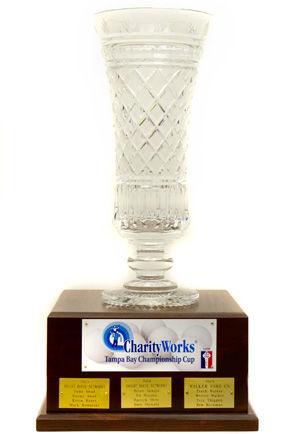 corporate sponsors compete for the Charity Works' Cup Challenge | Outside
With the elegant Waterford Crystal Trophy at stake, not to mention the championship-winning claim, corporate sponsors diligently select their quartets for the highly competitive 14th annual CharityWorks Cup Challenge.
The start is given at 12:30 p.m. on Thursday, November 17 on the famous west course of the Belleair Country Club. For an afternoon, golf at its best.
"Sponsors go to great lengths to choose their teams for the tournament," said Chris Renfrow, CEO of Charity Works. "With so much at stake, the composition of the teams is extremely important and the sponsors start to assemble their teams early."
Winning, of course, is important, but the sponsor of the winning team can display the Waterford Crystal Trophy in their office for a year, or until a team arrives in 2017 and overthrows the reigning champion.
And this year, there's an added incentive: Local artist Carrie Smith, known for her large-scale portraits, will unveil a summary of her work which will be presented as a gift to the tournament's winning team sponsor.
Add to that an exciting afternoon of camaraderie, various competitions, and other activities that can entertain even those who don't sway at the little white ball.
There will be a myriad of competitions, including net prizes for three teams, gross prize for one team, as well as hole-in-one, closest to pin, longest drive, chipping and team putting.
In addition to the flagship event, luxury vehicles will be on display at selected locations around the scenic Belleair Country Club, Florida's premier golf club.
For attendees, the lunch sponsored by Marsha and Ed Droste includes the food truck provided by Pete & Shorty's on Location!
Proceeds once again support the CharityWorks Give HOPE USA program which serves economically disadvantaged children and adults. This program provides personal hygiene kits and other essentials through its network of nonprofit agencies and participating schools in the Tampa Bay area. The distributions also include special gifts, including toys and other necessities during the upcoming holiday season.
The tournament registration fee is $ 225 for each individual; $ 900 for each quartet; $ 300 for the hole sponsor and $ 28 per dinner ticket for guests (not participating in the tournament).
Dick Crippen, longtime senior advisor to the Tampa Bay Rays, will once again serve as master of ceremonies and auctioneer before and during the dinner.
And in the spotlight will be Brian Aungst, Director of Government Affairs at Charter Communications. Aungst is recognized as this year's GIVE HOPE USA Program "Ambassador" at the Celebration Dinner.
Host sponsors include Bright House Networks and PENSERVCO; and other major sponsors include Adams Dental, Belleview Place, Chambers Financial Group, Clearwater Gas System, Dimmitt Automotive Group, Florida Blue, O'Keefe's, Outfront Media, ProVise Management Group LLC., PureLife Medi-Spa, Schmidt Investments of South Florida, LLC, Sea Dog Brewing Company, Sheraton Sand Key Resort, Strops Marketing, Tampa Bay Magazine, USAmeriBank, and WGUL AM 860 The Answer.
To view photos and videos from last year's event, won by Team Walker Ford, or to register for the 14th Annual CharityWorks Cup Challenge, visit www.charityworks.org or call 727-447-2064.
About Charity Works Inc.
Charity Works, Inc., headquartered in Clearwater, is an IRS 501 (c) (3) nonprofit organization whose mission is to help those who help others. Since 1996, the organization has provided purchasing advisory services for the benefit of non-profit charitable and educational organizations.
The organization operates a medical wellness assistance program called GIVE HOPE USA which provides economically disadvantaged individuals and families with health and wellness packs which are distributed through its network of agencies and of participating non-profit schools. During the holiday season, special gifts, including toys and other necessities, are also distributed to eligible children and adults.
Charity Works also provides vocational training for students and displaced workers as part of its "Teach & Reach" program and operates a benefit program called CaringPerks which provides individuals with rewards for their community service and encourages active volunteering.
Charity Works programs and services are designed to promote a more efficient giving cycle by developing relationships among and between donors, suppliers and nonprofit organizations.
For more information, call Chris R. Renfrow, President and CEO at 727-447-2064 or visit www.charityworks.org.s