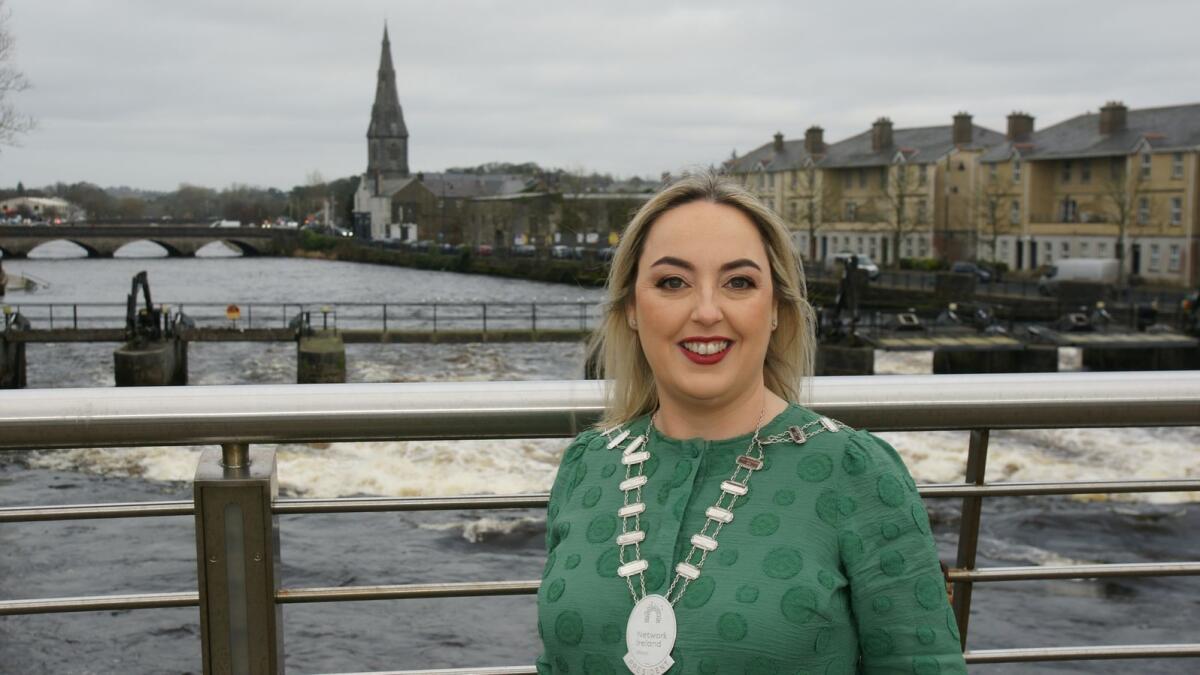 Edel Kenny takes on a key role at Network Ireland Mayo
The Mayo branch of Network Ireland, an organization supporting the professional and personal development of women, has announced the election of Edel Kenny as the new president for 2022.
Edel, owner of EAV – Event Audio Visual based in Ballina, was delighted to accept the nomination.
She was handed the chain of functions by the outgoing president, Caroline Kirrane of APP Kirrane Auctioneering.
Edel is a seasoned community leader with over 10 years of practical experience in public and private industry relations in education and business.
She is a qualified post-primary teacher and after many years of teaching business and LCVP she put her acquired knowledge into practice and started her own company, EAV – Event Audio Visual in 2017.
EAV provides professional AV support for events and conferences, including hybrid events requiring live streaming.
It did so with the support of Local Enterprise Office Mayo, Network Ireland Mayo and the wider network.
Edel believes in giving back and to that end, in 2014, she co-founded a community radio station – Ballina Community Radio.
The station is not for profit and all presenters are volunteers, harnessing the energy and spirit of the community.
She started as the station's president and was instrumental in securing grants and a radio license from the Broadcasting Authority of Ireland to begin broadcasting in 2015.
The radio station has grown steadily and hosts a weekly commercial show "In Focus" which airs Saturdays at 1:00 pm locally on 101.9fm and online.
She is a firm believer in empowerment, personal development and lifelong learning and brings all of this to her new role as President of Network Ireland, Mayo Branch.
She said: "I am very honored to be elected President of Network Ireland, Mayo Branch.
"My goal for the coming year is to help all women, employers and employees, make the most of every opportunity in a recovering economy.
"I thank 2021 President Caroline Kirrane for her dedication, support and hard work over the past year.
"I would like to acknowledge the support of the 2021 committee and thank them for giving of their time on a voluntary basis.
"I encourage new members to connect with us and realize the benefits of expanding their network of contacts."
Retail expert Melissa Moore of Retail Advisor has been confirmed as Network Ireland Mayo's vice president for the year.
The 2022 Network Ireland Mayo committee is also made up of Caroline Kirrane (ex-officio), Elaine Kennedy (treasurer and membership manager), Pamela Barrett, Lorraine Hall, Ger Hogan and Paula McNicholas.
Looking forward to her year as President, Edel will use her years of experience in event management and production to deliver hybrid networking events as restrictions evolve.
Edel chose Down Syndrome Ireland Mayo Branch as a charity partner.
Certain events throughout the year will have a fundraising element and all funds raised will be sent directly to the charity.
Formed in 1976 by parents who had children with Down's syndrome, the group has grown steadily since then.
To date, they have a membership of 141 people who have Down syndrome.
The association was created in 1976 by parents who had children with Down's syndrome and have 141 members with Down's syndrome.
They were very fortunate to be able to support people with Down's syndrome in Mayo and their families by offering grants for private therapies, access to a CORU-qualified speech therapist for all members regardless of their age, access to seminars education along the lines of Lámh, Numicon and See & Learn, as well as access to a Parentlink program in which two trained parents are direct support to parents who have a baby with Down's syndrome, both before and after birth.
Down Syndrome Ireland Mayo Branch also provides social support, including baby / toddler outings, summer outings, Christmas parties and bowling outings.
The first event of the year takes place online Wednesday, January 26 at 7:30 p.m. and tickets are available on Eventbrite.
The subject is "A Guide to Networking in 2022".
It will be hosted by Jean Evans of NetworkMe is an award winning expert on all things networking.
Network Mayo is open to all women and new members are welcome.
Membership application forms can be downloaded from the website www.networkireland.ie.
For more information, send an email to [email protected]
You can follow Network Ireland Mayo on social media via Facebook, Instagram, LinkedIn and Twitter.