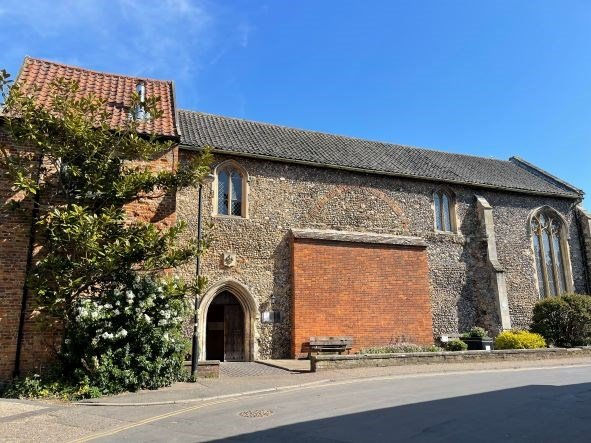 Funding boost for historic South Norfolk Chapel
Historic England has awarded a grant of £400,000 for repairs to the Grade I listed Becket Chapel in Wymondham, Norfolk.
---
The independent medieval chapel, dedicated to St Thomas à Becket, is believed to have been founded in the late 12th century by the son of William d'Aubigny, founder of Wymondham Abbey. The current building dates from 1300 to 1350, when the chapel was rebuilt. It is a rare survival of an independent medieval chapel.


In 1559, the chapel was transformed into a school. For a time in the 17th century, a dungeon for the accused was attached to the building and remained in place until at least 1848. In 1873, the building was restored and used as a public hall, before becoming a school again. More recently it was used as Wymondham's secondary library and later as the town's arts centre.
Becket's Chapel was added to Historic England's endangered heritage register in 2018. Urgent repairs are needed to the roof, guttering, drainage and stonework. Restoration of the structure and fabric of the building is essential to ensure its survival.
Trudi Hughes, Heritage at Risk Surveyor at Historic England, said: 'I am delighted that, working with the Norfolk Historic Buildings Trust and funding partners, we have found a way to save and repair this remarkable medieval chapel using traditional repairs and techniques combined with measures to reduce humidity and improve its carbon footprint.
"This striking building has such a story to tell, having had a fascinating and varied history. It is wonderful that this gem of a building is once again at the heart of its local community and attracting visitors to this historic market town, hopefully. the, for many years to come.
The building will be purchased by Norfolk Historic Buildings Trust (NHBT). Entirely self-funded and largely run by volunteers, the trust conserves and promotes Norfolk's built heritage. He plans to repair and improve the chapel to become a local community centre, run by Wymondham Arts Forum, and to promote Wymondham as a heritage destination for visitors.
Historic England previously contributed a grant of £51,000 for project development work on the chapel, in partnership with development grants of £45,000 from the Architectural Heritage Fund.
Funding for the project has also been pledged by the Architectural Heritage Fund, Norwich Freemans Charity, The Pilgrim Trust, The Headley Trust and Geoffrey Watling Charity.
Judith Harwood, Chair of the Norfolk Historic Buildings Trust, said: "We are delighted to have secured funding for the first phase of this exciting Becket Chapel repair and upgrade project. This extraordinary chapel, right in the heart of historic Wymondham, is of significant architectural and historical significance. We are relieved that its future can now be secured for the benefit of the local community thanks to the generous support of our donors.
"This is a groundbreaking project that supports the drive to achieve zero emissions by incorporating insulation, locally sourced materials wherever possible and, we hope, in phase two, powered by renewable energy."
It is a pioneering project based on the Whole Life Carbon Assessment approach to reducing carbon emissions, including work to ensure long-term sustainability while avoiding undue or damaging impacts on its historical significance and architecture and its local context.
The exterior of Becket's Chapel, Wymondham, Norfolk © Historic England
Learn more about historic England.