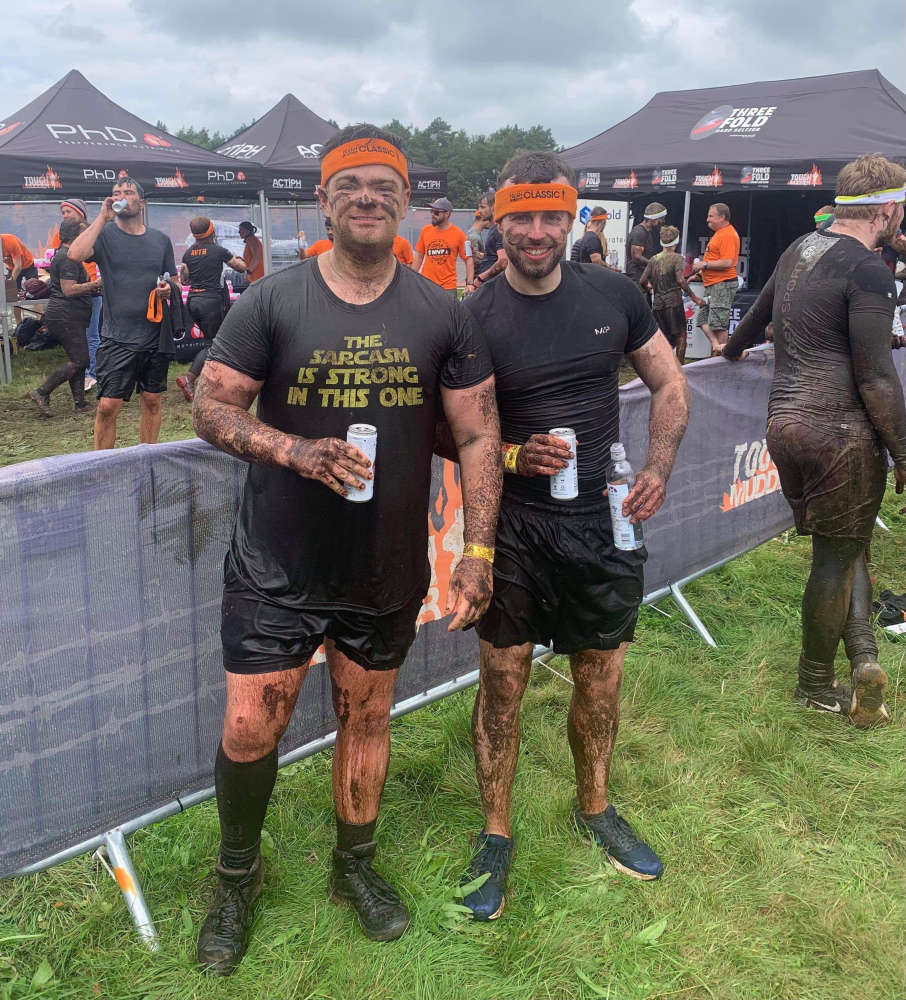 Glossop pals take on Tough Mudder again for charity – Quest Media Network
Adam Coomber (left) and Conor Ball after last year's Tough Mudder.
Two Glossop best friends put their bodies on the line for the second year in a row to tackle a Tough Mudder for a worthy cause.
Conor Ball and Adam Coomber, both 27, will again take part in the ultimate fitness test at Cholmondeley Castle in Cheshire – but doing 15km this time, up from 10km last year.
The challenge on Saturday September 10 will be to raise funds for Macmillan Cancer Support.
"There are a lot of different hurdles that you would probably see the US military doing, it's very physical," said Conor, transport coordinator at Kingspan and under-10 football coach at Glossop North End Community Club. .
"Last year there were some like going under fences and navigating through water where if you looked up you got a little electric shock. Of course, there is also a lot of mud!
"Sam was the life of the party and a very good boy"
Last year Adam – who recently completed an MSc in Human Physiology and Biomedical Sciences at Manchester Metropolitan University – led the fundraising for national charity Action Duchenne in memory of his friend Thomas Mickleburgh .
This year, Conor is leading the campaign in memory of his friend Sam 'Smog' Moghadasnia, who died of brain cancer at the age of 26 in late 2021.
Sam was originally from North Wales before moving to Manchester to take the same history course at Manchester Metropolitan University as Conor.
"Sam was one of my best friends from college," Conor explained. "I knew him from freshman year in 2013. You guys are like a big family at college and we got closer and closer as college went on. He sat next to me during lectures and we went out at night.
"In first year, I remember we did a presentation together in one of our seminars and our tutor at the time called us Ant and Dec! It's because every time he couldn't finish a sentence, I would rush and vice versa. We worked incredibly well together.
"Then in 2017 he told me he had been diagnosed with brain cancer. He told us individually at a party and said he was going to the hospital to have it eradicated by the chemotherapy After that, I talked to him a lot but I didn't really see him much.
"I spoke to him last May (2021) when he put something on social media about the gym and he asked me about the protein powder, I remember that very well. We talked about it and then we talked about the Euros. But in November I found out he had died. We knew something had happened, but I don't think we wanted to admit it. It was horrible.
"He played football in college, he kept himself fit and healthy and he worked hard. He was active during and after college. He's one of those, c It's the same every time someone is diagnosed with something like this – why him or why her? It just doesn't seem fair."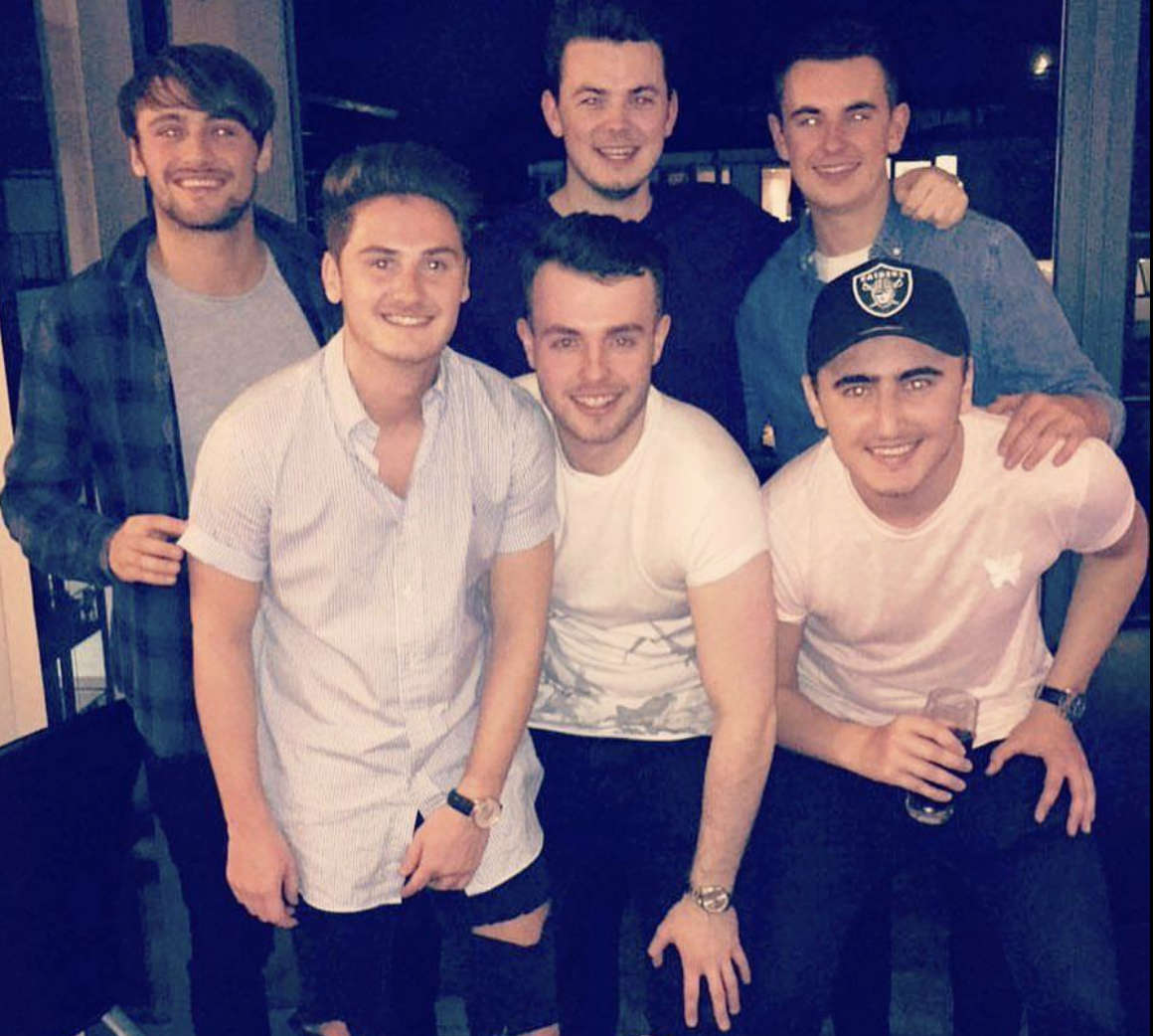 Conor (front center) with Sam (front right) and friends in 2017
Conor continued: 'Sam's best friend Liam, another guy I know from college, did a sponsored run for him which I think was the Manchester Marathon and raised a good amount of money . I told him I was also going to the Tough Mudder for Sam and he helped me spread the word.
"Adam asked me if we wanted to do the Tough Mudder again this year for Sam and I said I'd like to do it, after we did it last year for Adam's friend Thomas. It will be amazing to have Adam by my side to do it again.
"The main reason I'm doing this is that I haven't seen Sam for so long. He was the life of the party and a very good boy. It's the least we can do to raise money for a very good charity in his memory. I hope he will despise us that day.
Conor and Adam have been preparing for the Tough Mudder for several months in order to be physically ready for what lies ahead.
"We more or less did the same as last year because it worked really well for both of us," Conor said of their preparations.
"I was in the gym most nights and still played football to improve my cardio. We didn't want to try anything drastic as we were both very fit and active throughout our It was the exact same workout as last year, just a little more cardio. Strength training has always been the same because it will always be the same class.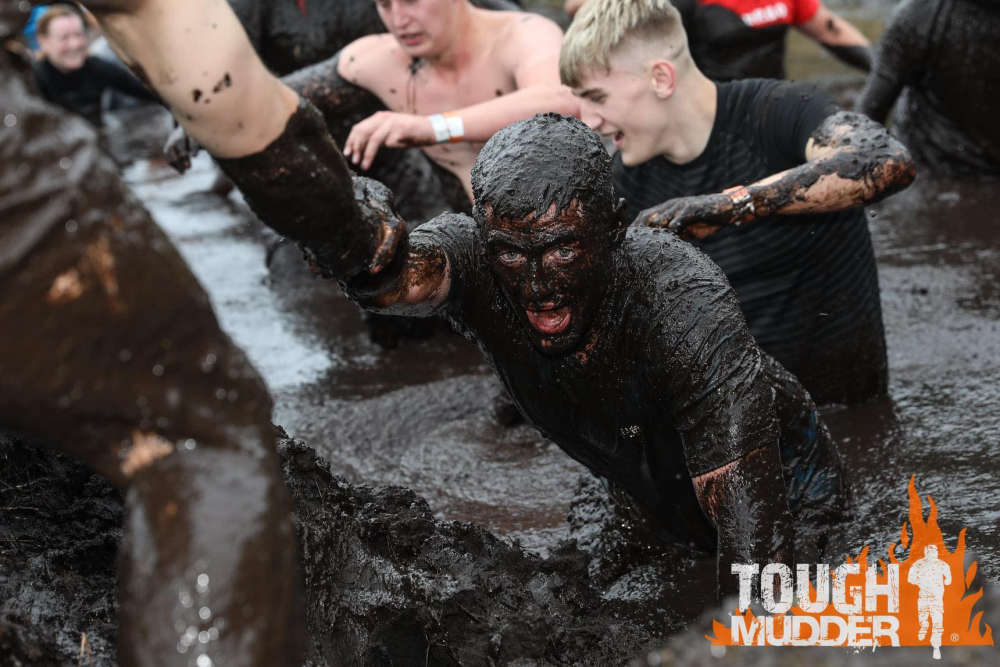 Conor completely covered in mud during last year's Tough Mudder!
"You just have to keep telling yourself to keep going"
Conor thinks the mental toughness required to take on the challenge is what they learned doing it last year.
"You can get runners up and we definitely got that," he told us. "At the end I just wanted to keep going because I was so focused, but even though a lot of it is physical, mental toughness is just as important.
"You just have to keep telling yourself to keep going. I remember one of the obstacles last year where we were directly submerged in the mud and you're like that for four hours, or you're underwater at zero degrees and if you haven't taken a good breathing forward, it hits you like a brick because it's a massive shock to the system.
"We both know what to expect now and we support each other. Last year it took us about three and a half hours to do 10 km, I imagine it will take us about four hours or a little more to do 15 km this year.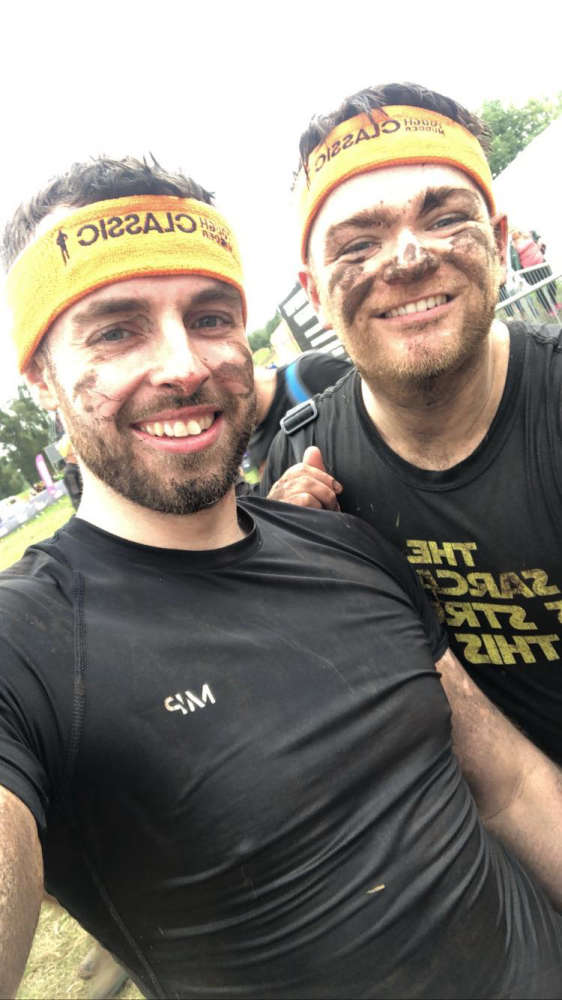 Conor and Adam are raising money for Macmillan Cancer Support this year
The couple have already raised over £400 through their GoFundMe page for Macmillan, which provides specialist healthcare, information and financial support for people affected by cancer.
Anyone wishing to donate can do so here: https://www.gofundme.com/f/in-memory-of-sam-moghadasnia
We wish Conor and Adam good luck in their Tough Mudder and we'll report back to see how they do.
Learn more about the Glossop Chronicle
Click here for more breaking news
Click here to read the latest edition of the journal online
Click here to find out where you can get a copy of the newspaper