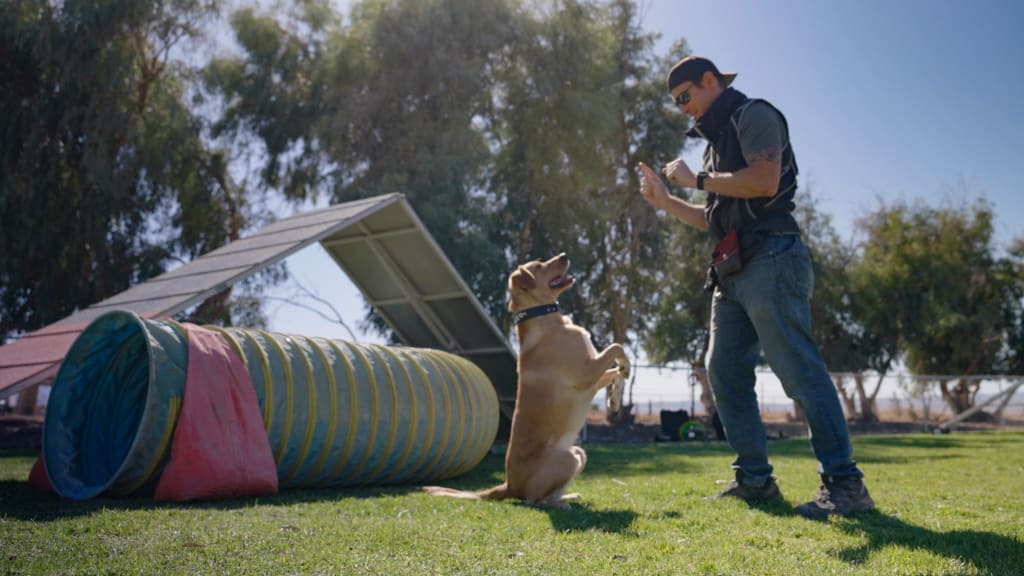 How These Dog Training Business Owners Teamed Up To Help Veterans In Need
Erick Innis had an idea on how to give back four years ago, after a friend texted him that a dog saved his life.
A former army ranger who worked as a K9 manager in Afghanistan, Innis had started training service dogs informally to help other veterans after losing a number of friends to suicide. He was considering turning the practice into a non-profit organization when he got the message: The Belgian Malinois that Innis had trained had kept his friend's mental health from deteriorating. "And that was the 'Hey, this works' trampoline," Innis said.
Innis, owner of Naples, Florida–based Coastline K9, is now one of three business owners connected by the nonprofit Rescue 22 Foundation. The organization (also based in Naples) raises funds to subsidize the cost of training assistance dogs, which can range from $ 40,000 to $ 60,000 between training, travel and onboarding a dog in a new home. Rescue 22 covers about half the cost, and business owners volunteer for the other half. Dogs can do everything from helping interrupt a panic attack to helping mobility in amputees. Here's how the team, which has trained 34 veteran dogs for free since 2017, came together and did it.
The problem
More than 6,000 veterans died by suicide in 2019, according to the 2021 US Department of Veterans Affairs Report on Veteran Suicide Prevention. Research suggests that specially trained dogs may help fight post-traumatic stress disorder, which is more common in the military than in the general American population. But the costs can be prohibitive and there aren't enough trainers available for all veterans in need. These issues prompted John Devine – former Navy SEAL, Devine K9 owner and Rescue 22 trainer – to train half a dozen service dogs for free for other veterans.
Devine knows firsthand how much support veterans need after returning to civilian life. When he returned from the Navy in 2015, he said he didn't really have a direction. While on active duty, he had been a SEAL K9 master, leading dogs that saved the lives of his team members by sniffing IEDs. So he started to help his friends and family with their pets. His free weekly training course in a San Diego park became a side business and then a full-fledged Los Angeles County-based business. "This is what helped me find a mission and a goal," he says, adding that he has seen a similar effect for the company's clients.
How it came together
Devine got to know Innis because they were part of the same small circle of former Special Ops students who trained dogs. And Innis had previously met Angela Connor, who is now chair of the board of Rescue 22, after her son contacted him to ask if he was a dog handler with the Army Rangers. When Innis told Connor about his idea, they thought, why not try to reach more veterans with a fully established effort?
Connor had a background in nonprofit work, and his father and uncle battled PTSD from the Vietnam War. "What sparked my passion was wanting to make sure that the people who have served for the past 20 years don't have the same experience as my family," she says. In July 2018, the founders formalized Rescue 22, which also includes a third company, Ridgeside K9 Carolinas.
The association began running small events like auctions and worked with larger and larger companies, including Ford, which incorporated Rescue 22 into its Pride of Honor military charity program. Last month, he also got his biggest individual contribution to date, of $ 25,000. Still, Connor says it's been harder than she expected to generate interest in the matter. On the one hand, many people mistakenly assume that the Department of Veterans Affairs subsidizes assistance dogs.
Finding veterans who want dogs is another matter. Connor has 10 people on the active wait list and 24 on the "under" wait list, whom she and other business owners regularly call to offer help while they wait for an opening. This year, they train and integrate 14 dogs. Connor does not receive a paycheck and has a day job as an educational financial consultant. Ninety-five cents of every dollar donated goes to veterans, while the rest goes to expenses, such as upkeep of the website and accounting, she said. Rescue 22 does not have full time employees.
For Innis, working with service dogs and supporting Rescue 22 hasn't just helped other veterans. "You have to stabilize yourself before you can help stabilize other people," he says. When he left the military, he says, he brought home a dog with multiple behavioral problems from a training company where he volunteered and re-educated him. "This dog has blossomed beautifully," he says. "But that dog ended up building me up."