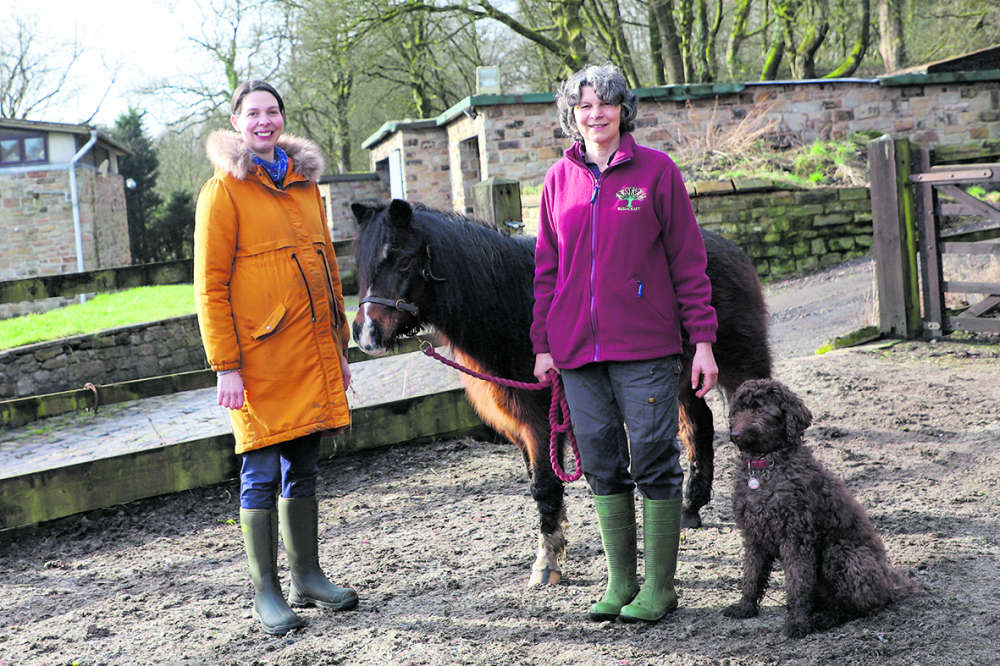 Improving your health and well-being on the farm – Quest Media Network
An inspiring mother and daughter who provide vital health, wellness and therapeutic advice to those who need it most, celebrate moving into their first permanent home.
Liz Benstead and Emma Nock run Liberty Farm, a community interest company offering a wide range of nature-based coaching and counseling courses.
Thanks to grants from Action Together, they have been able to set up many programs over the past five years, including more recently helping people dealing with the impact of Covid and dealing with issues of isolation, anxiety , etc
"We have traditionally rented sites and open public spaces around Tameside to provide our range of activities, but we are now establishing our first permanent home at Valley Farm in Ashton," Emma explained.
Emma and Liz have both kindly taken the time to talk to us as they prepare for their new base before resuming their course schedule in the spring.
Emma decided early on that she was interested in facilitated learning and counseling using animals as a way to help others.
Studying at the University of Bradford in 2015 put Emma on the path to start what is a fabulous establishment, offering life coaching, therapeutic consultation and individual consultation through alternative therapies and treatments.
As well as being a qualified LEAP EFL Practitioner, Emma has a Level 3 Certificate in Counselling, providing coaching and therapeutic sessions facilitated by interactions with horses and nature.
Emma says she enjoys working with entrepreneurs and small business owners and especially those working in other helping professions.
She also has a personal interest in supporting people with chronic illnesses, which arose after she was diagnosed with Ehlers Danlos Hypermobile Syndrome.
In fact, the mother and the daughter suffer from the same syndrome which is an inherited disease affecting the connective tissues causing a problem of both physical and mental degeneration, and which can lead to weakness and fatigue.
They founded Liberty Farm CIC in 2017 and used leased land and stables to offer their therapeutic classes to the public, with the help of grants from Action Together.
They've used Daisy Nook to provide wild foraging and other classes, provide peer and emotional support to the local community, and help people grow and enjoy time in the countryside, away from it all. daily requirements.
Liberty also works with the charity Lifecentre Hattersley, which itself offers a diverse range of youth and children's activities aimed at helping local youngsters reach their potential, with Liberty offering wild picking, environmental studies and nature walks.
But now Emma and Liz's dream has started to come true, offering lessons in one area with the creation of the new permanent base at Valley Farm.
For Emma, ​​this will allow her to realize her vision of one-on-one equine therapy for those who have limited access issues, as the areas they had to rent in the past could be hilly and not always easily accessible. accessible to all.
Emma also hopes to develop on-site courses, such as CBT and counseling, as well as possible residential courses.
"Our goal is to serve and support our local community, enabling people to find joy, health and fulfillment in their everyday lives," Emma added.
Liz and Emma's therapies complement each other perfectly and they will now be able to work even more closely together.
Liz is a trained bushcraft practitioner, having trained at the Institute of Outdoor Learning.
With Dave Watson of Woodland Survival Crafts, she has developed a program of life coaching and therapeutic bushcraft.
Liz is passionate about long-term mentoring for people from disadvantaged backgrounds and seeing people thrive in all areas of their lives and her labradoodle Tara is a regular star of her sessions.
She has trained and works with a number of outdoor activity groups, primarily focusing on bushcraft which is a fundamental way of working with nature to meet our needs. She originally started with mountain biking, but discovered with her EDS that it wasn't a good mix.
Liz told us about the benefits of bush coaching, mentoring and wellness sessions which are specifically designed for those struggling with physical and mental health issues and the value of interacting with nature to improve certain aspects of our life.
"Bushcraft is the ability to see what is in the natural environment and then adapt and use those resources to provide you with what you need," she said.
"It can significantly boost your self-confidence as you learn new skills and develop a mindset of seeing solutions rather than problems.
"Our therapeutic bush program helps people come up with ideas that will enable change through engagement with the outside world with the use of techniques such as fire lighting, shelter building and foraging , helping people explore their understanding of themselves, how they relate to people, and how they approach different challenges.
"Bushcraft highlights the essential life skills of food, water, fire and shelter.
"These skills are creative, they inspire and spark a sense of adventure. Our sessions also explore mental and emotional aspects with clear parallels to everyday life.
"Looking at the forest and what it offers teaches you to see the world differently – the lessons learned are deeply ingrained and easily transferable to everyday life."
Liz can be reached as 'Arukah Bushcraft' and is currently supporting her daughter who is on maternity leave with only a few weeks until the new arrival.
Emma's horse lessons are currently awaiting her return from maternity leave, but bushcraft lessons will continue this spring.
If you would like to find out more about the unique advice and therapies provided by Liberty Farm, you can visit their website https://libertyfarm.co.uk or you can find out more on their Facebook page. You can also email [email protected] for more details.
• In Nigel Wood's photos… Liz and Emma are settling into their new permanent home at Valley Farm, with a little help from labradoodle Tara, pony Minstrel and Bailey the horse. Liz can be seen demonstrating the art of carving which she says helps with concentration techniques.
Find out more about the Tameside Reporter
Click here for more breaking news
Click here to read the latest edition of the journal online
Click here to find out where you can get a copy of the newspaper