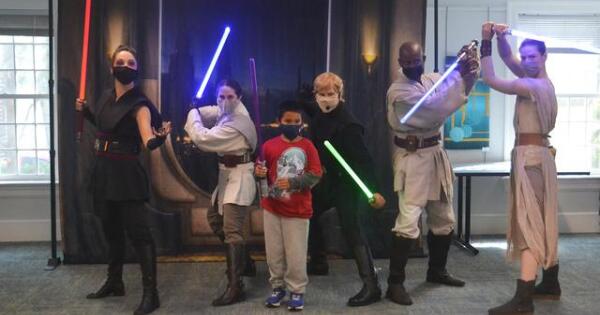 Library holds Padawan lightsaber training for young Jedi
Posted: Oct 29, 2021 8:00 AM
The Force was strong at the CH Booth Library when it hosted three Padawan lightsaber training sessions last weekend.
Classes on October 16 were taught by members of the Saber Guild, including Local Director Kate Slomkowski as Sith Kaimos, Deputy Local Director Eric Colson as Jedi Nas Rexi, William Moskaluk as Luke Skywalker, Kris McIntyre as Jedi Lethe and Kat Seelig as Rey.
Slomkowski said The Newtown Bee, "Saber Guild is an international non-profit organization recognized by LucasFilm Star wars costume group specializing in choreographed lightsaber shows. Kessel Temple is the local Connecticut chapter of the organization. We perform at charity and community events, as well as comic book and sci-fi conventions, all to raise money for charity and share our love of Star wars with fans from all over the world.
Upon entering the library meeting room, the students were placed in individual circles and given a training lightsaber. The program was aimed at 6-10 year olds.
At the start of the course, Luke Skywalker explained to the students that the training was provided because "we are always looking for young people. "
He then explained that the universe's greatest tool is Force, an energy field created by all living things that binds the galaxy together.
For a lesson on The Force, students were instructed to quickly rub their hands together, release them, and then try to pull them together, which caused them to feel an invisible resistance.
"What you feel is energy," Skywalker explained.
Harnessing this power, the class then trained to push that energy towards Jedi Nas Rexi. After a few tries they used all their strength and it sent him flying backwards.
"The force is strong with this group," Skywalker noted.
He then went through the three important rules of Padawan lightsaber training, which were to only use the lightsaber for defense, always stay on the mark of their practice circle, and always listen to the Jedi instructors – as well as their parents.
Once everyone knew how to follow these guidelines, students learned a handful of basic and advanced moves, including how to protect their head and legs if an opponent tried to attack them with a lightsaber.
After learning these maneuvers, Sith Kaimos suddenly entered the room and challenged the power of the students.
The kids were able to show off their individual moves as they fought against Sith Kaimos and Jedi Nas Rexi.
Sith Kaimos was so impressed with the group that she tried to convince them to become Sith. Thanks to the power of the Force, however, the students were able to persevere and not be drawn to the dark side.
Luke Skywalker applauded the class for their skills and concluded the class by saying, "Being a Jedi is a practice that lasts a lifetime and never ends."
The students then received a certificate for completing their Padawan lightsaber training and were invited to take photos with the cast of instructors.
For more information on the Saber Guild, visit saberguild.org. To stay up to date with the adventures of Kessel Temple, follow them on Facebook and Instagram @ctsaberguild.
Journalist Alissa Silber can be reached at [email protected]
Young Joshua Santamaria, center, posed with members of the Connecticut chapter of Kessel Temple of the Saber Guild after his Padawan lightsaber training. Left to Right: Kate Slomkowski as Sith Kaimos, Kris McIntyre as Jedi Lethe, William Moskaluk as Luke Skywalker, Assistant Local Director Eric Colson as Jedi Nas Rexi and Kat Seelig as Rey. —Bee Photos, Silber
Students of the Padawan Lightsaber Formation at CH Booth Library practice using The Force on Jedi Nas Rexi, center, played by Deputy Local Guild Manager Saber Eric Colson.
At the start of the Booth Library Padawan Lightsaber training session on October 16, William Moskaluk as Luke Skywalker and Eric Colson as Jedi Nas Rexi showed students the lightsaber maneuvers.
Saber Guild members Kat Seelig as Rey and Kris McIntyre as Jedi Lethe oversee the Padawan lightsaber training class in jumping training on October 16.
Local Saber Guild Director Kate Slomkowski, as Sith Kaimos, challenges a student during Padawan's lightsaber training class, but he dodges her attack by leaping into the air.
Luke Skywalker (Saber Guild member William Moskaluk, foreground) teaches students how to defend themselves with a lightsaber during Padawan Lightsaber training at the Booth Library.
Saber Guild's Kessel Temple Connecticut Chapter Local Director Kate Slomkowski strikes a powerful pose during one of three Padawan lightsaber training sessions.
Peter Malishchak, of the Kessel Temple Connecticut chapter of the Saber Guild, welcomed participants to the Padawan lightsaber training on October 16. He also distributed informational material, including each instructor's baseball-style coach cards.