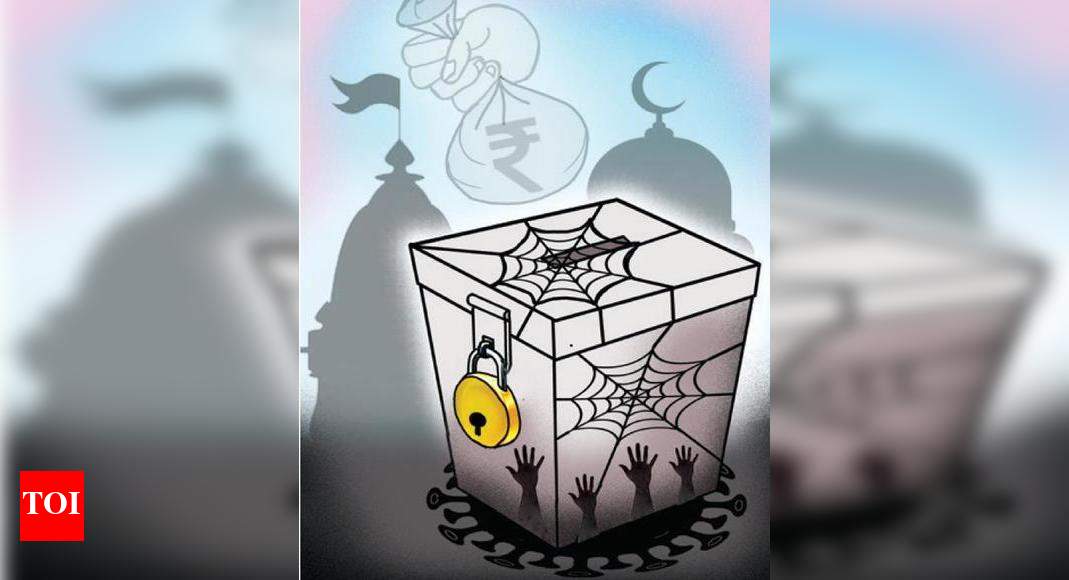 Lockdown Reduces Donations, Charity Works at Shrines | Nagpur News
Nagpur: With religious venues remaining closed due to Covid-19 restrictions, donation boxes have been empty for more than seven months and charity work has stalled.
Officials from the Hazrat Baba Tajuddin Trust, the advisory body to the temple of Ganesh (Tekdi) and Shree Sai Baba Seva Mandal (Sai ​​Mandir) told TOI that the extended lockdown had deprived them of regular donations ranging from 70,000 Rs to Rs 1 lakh per day and now they have no choice but to prematurely release term deposits (FD) to continue their charitable work.
L Dhoble, chairman of the Ganesh temple advisory committee, better known as Ganesh Tekdi Mandir, said that over the next few months the temple balance would become zero if the state government did not allow the reopening of places of worship.
According to Dhoble, before the lockdown, the temple's average donation was Rs1 lakh per day. It is now zero. With the funds available, the temple can barely survive three odd months and can only pay staff salaries. "Due to irregularities by the previous committee, there was a mess of nearly 6.5 crore rupees," Dhoble alleged, adding that the temple now finds itself with gold worth 13 crore rupees.
Avinash Shegaonkar, secretary of Shree Sai Baba Seva Mandal, said the extended lockdown had severely affected the temple's charitable work. "The average donation of Sai Mandir is between Rs2 crore and Rs2.5 crore. However, seven months later, there is no sign from the state government regarding the reopening of places of worship. The temple lost almost 1.5 crore rupees, "Shegaonkar said.
Despite the obstacles, the temple continues its charitable work such as providing free meals for the needy and devotees every day. The temple also helped the Nagpur Municipal Corporation (NMC) step up its Covid-19 treatment at Imambada Isolation Hospital with a donation of Rs31 lakh to the Chief Minister's Relief Fund.
"We have started using the funds from our term deposits to continue our charitable work. The salaries of temple staff, bills like electricity, water and property tax must be paid, "Shegaonkar added.
Amanullah Khan, executive member of Hazrat Baba Tajuddin Trust, said that Syed Mohammad Baba Tajuddin's Bada Taj Bagh, also known as Tajuddin Baba, is also in the throes of a severe financial crisis. Meals for the poor have been cut off. According to Khan, the trust provided nearly 4,000 meals to the poor twice a day. The number of people receiving free food on Thursdays and Fridays was around 10,000, more than double the number on other days. The trust is also struggling to pay staff salaries which amount to Rs8 lakh per month.
The Dragon Palace Buddhist Temple, an important religious place for Buddhism in Kanhan, also sails in the same boat as the others. Former minister and founder of Dragon Palace Sulekha Kumbhare said: "The prolonged lockdown to keep religious venues closed has kept donors at bay. In such a situation, it is difficult to cope with the expenses incurred, including the maintenance of such a large monument and the salaries of the staff. This year we didn't organize any functions in a big way, which really helped in terms of savings. "
Despite the obstacles, Dragon Palace continues its social work such as the distribution of 1 lakh masks, ration kits and job creation for disadvantaged women.
With the exception of a few devotees who offer prayers from outside, there is almost nothing to write about. While many priests have suffered a cut in wages, hawkers selling puja items and flowers, who also line up outside religious venues, have also been hit hard and are waiting for divine intervention to bail them out.
FacebookTwitterLinkedinE-mail