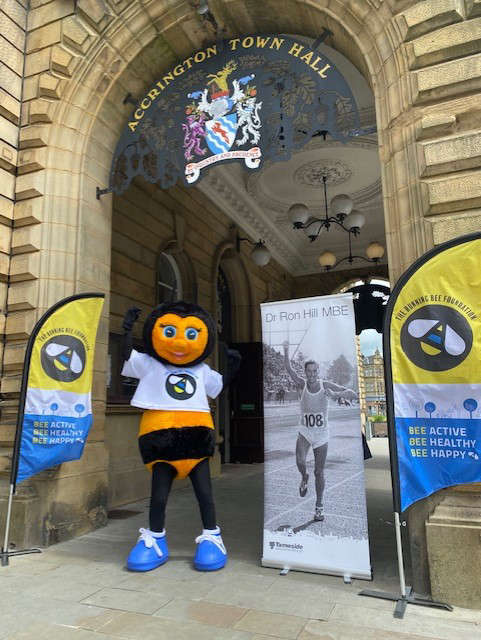 Race and Funding to Honor Hyde Running Legend – Quest Media Network
CHARITY LAUNCH: The memory of Ron Hill lives on after the launch of a new running and legacy fund to support young athletes.
Health and wellbeing charity The Running Bee Foundation has announced the creation of a new running and legacy fund in honor of its late ambassador, Dr Ron Hill MBE.
The Dr Ron Hill Accrington 10K (formerly Accrington 10K) is now part of The Running Bee Foundation's portfolio of events and will take place on Sunday August 14 in the heart of the Olympian's former birthplace.
The race will start and finish next to two of Accrington's historic landmarks, the magnificent Grade II listed Accrington Town Hall and Market Hall. The route will pass through May Hill Close (dedicated to Ron's wife) and Ron Hill Way, in commemoration of the international running legend who settled in Hyde and ran his own business in the town.
Along with the run, the Running Bee Foundation announces a brand new fund named "Dr Ron Hill MBE Legacy Fund". The Fund will be managed by the Foundation and will provide grants to support young athletes and sports clubs in Tameside and Accrington.
Grants will be received and reviewed by the Hill Family Trustees and the Running Bee Foundation and awarded annually. The inaugural presentation of the grant will be awarded at a ceremony in July 2023.
Running Bee Trustee Chairman Jan Collins said: "Ron Hill is a running legend in the eyes of so many, his legacy deserves special recognition and the Running Bee Foundation wanted to come up with meaningful initiatives that not only help us remind Ron, but help others follow in his stride.
"We have worked closely with Ron's family to organize the activation of the legacy fund and are delighted to open applications for young athletes needing support to reach and achieve their sporting goals."
"Dr. Ron Hill Accrington 10K will lead the Running Bee Foundation's mission to encourage active, healthier and happier lifestyles, and we hope to inspire the community to get involved."
To encourage everyone to participate in the inaugural race, the Running Bee Foundation will be offering all 10K registrants free entry to its MyFirst™ Mile initiative for family and friends.
MyFirst™ Mile is dedicated to anyone looking to start their fitness journey and take their first step towards an active, healthy and happy lifestyle.
To register to run in the Dr Ron Hill Accrington 10K visit the Running Bee Foundation website https://www.runningbeefoundation.co.uk
Details on how to apply for a Dr Ron Hill MBE Legacy Fund grant will be announced in due course via the Running Bee Foundation website.