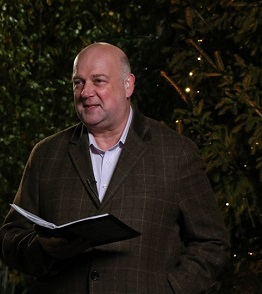 Remember your loved ones with Light up a Life
Light up a life will take place on the grounds of the Hospice in Shelford Bottom at 5 p.m. on the first Sunday in December. The event will be filmed and shared after the event for those who wish to watch it for the first time, or even from the comfort of their own homes.
The special evening is a wonderful opportunity for people to join an amazing community of colleagues, volunteers, supporters and friends, to reflect, remember and look to the future with hope. As those who have experienced the charity's services know, the community embraces everyone and welcomes people of all faiths and none. To sing! The choirs will perform beautiful pieces of choral music, and there will be poignant readings of poetry and prose.
Keith Morrison, Arthur Rank Hospice Patient and Family Support Team Leader (on the photo on the right), explain why Light up a life is so important:
"It's an opportunity for people to choose to come and remember. Very often people feel ambushed by their grief. By choosing to participate in Light up a life – whether in person or online – you decide for yourself "today I will remember". The idea is that through the poems, music and thoughts that we share during the event, you find a connection with how you are feeling. This is helpful because it helps you understand that what you are feeling, in many ways, is being shared by others.
One of the most beautiful moments in Light up a Life is when the twinkling lights adorning the 22ft Christmas tree are turned on. They continue to shine throughout the holiday season between December 5 and the twelfth night of January 5, 2022 and have special meaning for everyone who chooses to remember loved ones. As a member of Light up a life appeal, supporters are encouraged to include the names of loved ones in the memorial booklet, as well as to write a personal message on the back of a star. Once the stars are returned, they will be displayed in the upstairs windows at the front of the Hospice – a symbol of care, support and community.
Dr Victoria Montgomery, Chief Clinical Psychologist at Arthur Rank Hospice Charity, explains why donations to Light up a Life are so important right now:
"This recent pandemic has added layers of complications for those who are grieving. The demands on our resources are greater than ever. With a significant increase in referrals to our team, we want to make sure that we can be there for those who need us today and for those who will need us in the future.

"It is my privilege to be there for people when they need our care, but living after the death of a loved one still requires the support of our communities. Over the past few months, we have started to reconnecting with our own support networks, and I see the difference it contributes to the emotional well-being of all of us. So significantly, your donation to this Light up a Life appeal is a continuation of this community support, because you are helping us to be there for people when they need us. Thank you. "
The Hospice invites you to make a donation and share the names of your loved ones by Wednesday November 17 at arhc.org.uk/lual. A copy of Light up a life A commemorative booklet will be displayed to each person who makes a donation in memory of someone. For more details on the event, visit the website or call 01223 675888.
Light up a life makes a significant contribution to the £ 3.52million which is due to be raised by the association this year, to support people living in Cambridgeshire living with advanced serious illness or other life-limiting illness and those who need end-of-life care. Thanks to the invaluable support of the local community, more than 4,000 patients are treated free of charge each year at the Shelford Bottom Hospice, the Day Treatment Center in Wisbech and in the homes of the people of Cambridgeshire via the Arthur Rank Community Team .