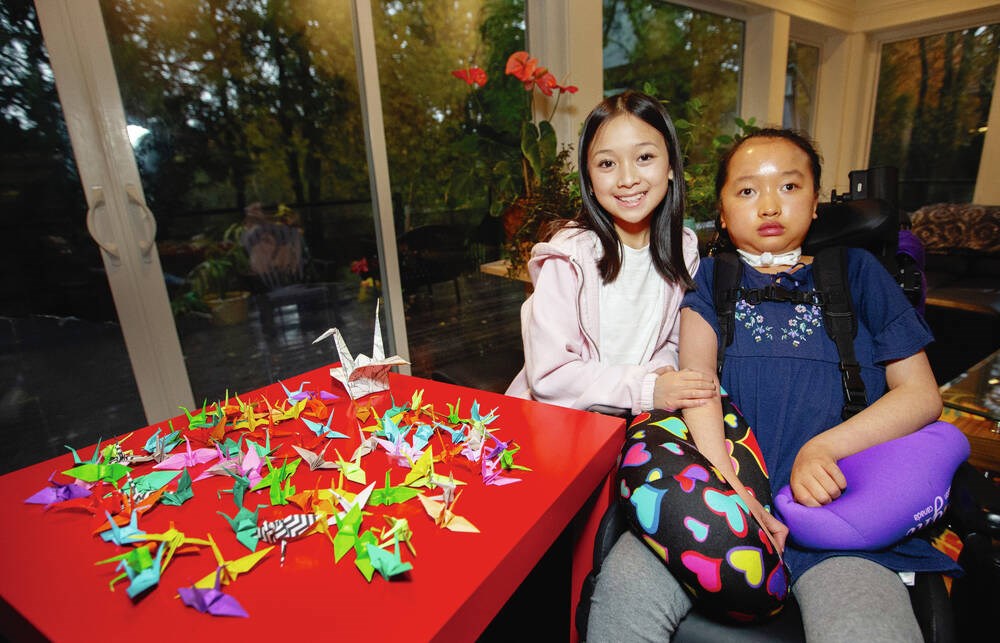 Vital People: Young philanthropists in training include 12-year-old Myla Bui, who folded 1,001 cranes to raise funds
If you were offered $ 50 to donate, which charity would you give it to?
More than 300 people under 25 took up the challenge at the end of the Coast Capital Power of Youth: Giving Hearts 2021 workshop this month, marking National Philanthropy Day.
This was the fifth year of the annual event, which was envisioned as an opportunity for young people from across Vancouver Island to participate in a do-it-yourself philanthropy workshop, individually or in groups.
"The workshop is an opportunity to encourage and inspire young people," said Charlene Smith, National Philanthropy Day chair for the Vancouver Island chapter of the Association of Fundraising Professionals. "It's about providing them with a new base of skills, a better understanding of philanthropy that they can integrate into their daily lives. "
Applicants were expected to complete five chapters at their own pace starting October 1, with a final submission on October 31. Participants learned about topics such as fundraising, advocacy and volunteering. The youth participated in readings, videos and activities and were able to choose to meet virtually or in person.
Upon receipt of their final submission, each youth received a $ 50 CanadaHelps gift card to donate to the charity of their choice.
This year, the $ 15,000 and more made available to the program was provided by the Andrew D. Beckerman Fund and the Victoria Foundation's Viveka Foundation.
"Seeing the diversity of charities that attendees choose gives us insight into the social issues that concern them – and how they want to use philanthropy as a way to change lives for the better," Smith said. "We are inspired by the young people of today and hope that they will keep this fire going as they become the agents of change of tomorrow. "
One of the participants was 12-year-old Myla Bui, no stranger to philanthropy, having raised over $ 30,000 in three months for the Help Fill a Dream foundation in January.
She was inspired by fundraising for the foundation as a thank you for the support her family received after her sister Leila was hit by a car in 2017 at the age of 11 and suffered serious injuries cerebral.
His 1001 Cranes, 1 Wish campaign was based on an ancient Japanese legend that the gods will grant a wish to anyone who folds a thousand origami cranes. Myla asked her supporters to donate a dollar for every crane she or her family creates.
Even after the campaign ended, donations continued to flow in and Myla says she will continue to make cranes until they stop.
"Myla started making cranes when she was only 11 and is still attached to them," said her mother, Kairry Nguyen. "She is a very generous girl. I am very proud of her and also overwhelmed by the support she received.
She said her daughter liked the workshop because she could complete the course materials at her own pace throughout the month.
When they first heard about the workshop, their first response was that there wasn't much more to learn, given Myla's success in fundraising.
"But Myla loves to learn, so she said 'Why not?' "Said Nguyen.
They are happy to have signed. Myla said the part she loved the most about the workshop was meeting other people.
Unsurprisingly, she donated the $ 50 she received at the end of the workshop to the Help Fill a Dream Foundation.